Pastor Anchul Axelrod
You can reach Anchul by email at:  anchul@theridgekc.org
I believe life is a wonderful and exciting journey. As a young man, the pastorate was not a part of my plan. Perhaps this is one of the many reasons I am so passionate about ministry. I have learned, in a deep and meaningful way that encountering Christ changes us, and it certainly did change me.
Early in life, my focus was music and music technologies. After attending Berklee College of Music, I spent a number of years touring the world as an Audio Engineer. As time passed, I discovered that living on the road was not conducive to marriage. It was time for a change.
After moving to Florida, a colleague asked if I would visit his church to repair their sound system. It was there that I discovered Christ, and later opened an Audio/Visual contracting firm for churches.  A decade later, my largest client asked me to join their staff . . . it was time for another change. Cont . . .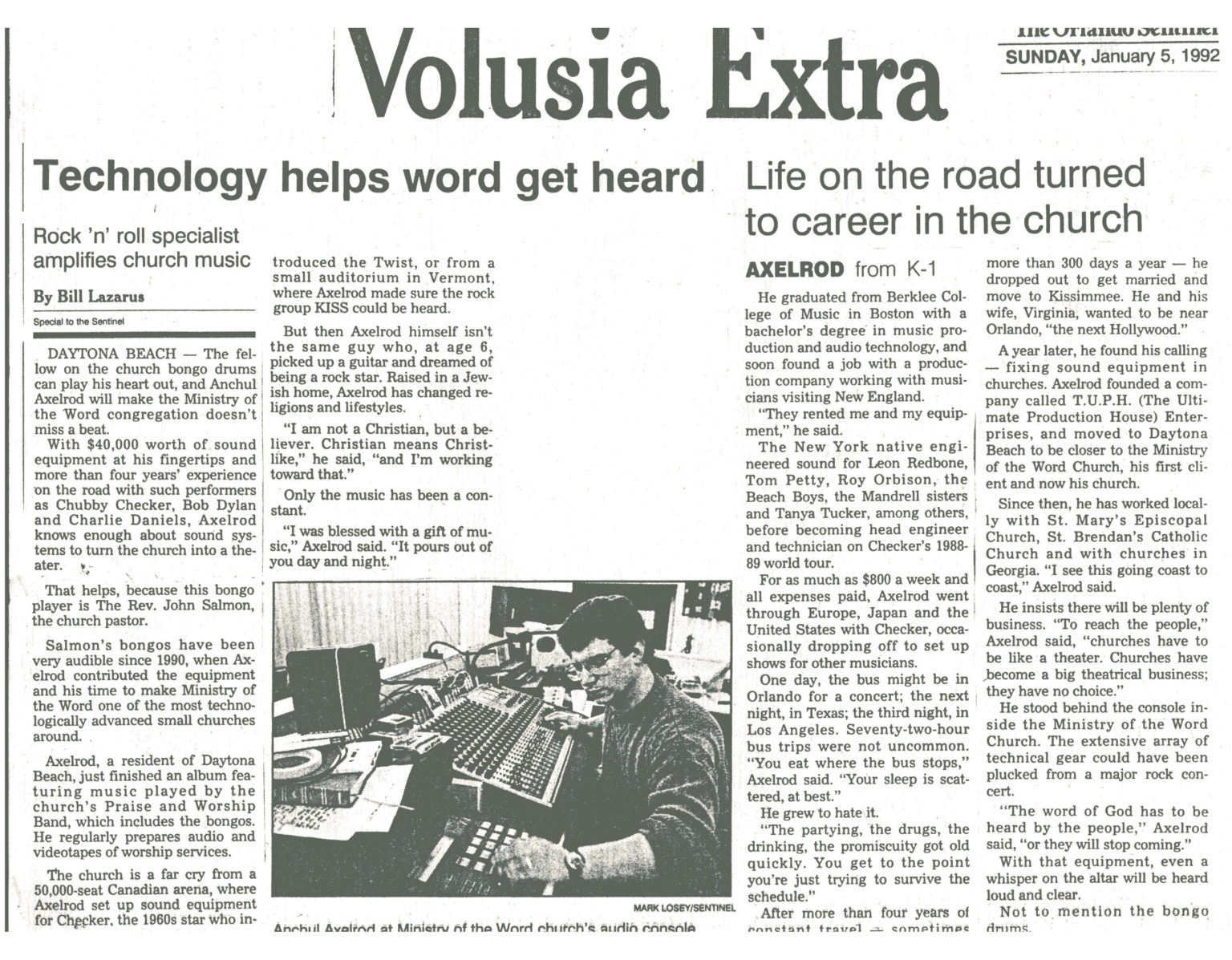 Over the next sixteen years, I have served five churches as either the Director of Technical Ministries or the Pastor of Worship Arts. It was also during this time, that I felt a strong urging that there was a greater opportunity for ministry than what I was currently undertaking. The desire to become a Pastor was constantly resurfacing. Much like a buoy I would try to push under the water, but would resurface, gently bobbing up and down, saying, "I'm here, pay attention." It was time for another change. cont . . .
While serving at Woods Chapel, the calling became undeniable, and confirmation came from many directions. It wasn't long before my wife, Ginny, and two of my daughters, Samantha 19 and Amanda 22, and I moved to Lincoln, MO, where we were appointed to Lincoln & Hickory Chapel churches. Since moving here, the churches have undergone a time of healing, rejuvenation, and rapid growth. Easter afternoon after two wonderful services, as I was falling asleep in my study, the phone rang. Many conversations and a lot of praying ensued. It became apparent that it was time for another change.
Encountering Christ dictates that we change, as we experience the sanctification process of our walk with Christ. I am very excited for the next part of our journey. I am honored and excited to be the Pastor of The Ridge.  I am excited to be a part of the community. I am excited to see what God is going to do through us, as the body of Christ. It is my hope and prayer that you are excited as well… excitement is contagious!