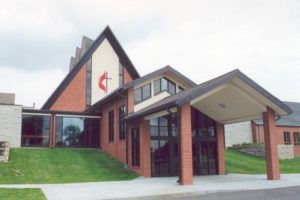 I'm glad you've taken the time to check us out.  Look around the website and please contact us at 816-353-1435, if you have any questions.
At The Ridge we have a casual, hospitable atmosphere' the parking is easy, and our signs and friendly greeters will help you navigate our beautiful facility, so you won't feel lost or out of place.  Please wear whatever you are comfortable in – many wear blue jeans.
We've got questions and we know you do too. And we organize our time together around those questions. The gospel message is really quite simple; loving God and loving people. My focus, as the pastor of The Ridge, is to help make that happen.
Sermons are researched, thoughtful, and grounded in scripture. In worship we learn how to pattern our lives after the life of Jesus Christ. Though children often attend and occasionally make a little "holy noise," you are always able to worship undistracted.  Kids are always welcome in worship. We're sure it makes God smile to see kids playing in his house.
We are a United Methodist congregation, and we welcome people from all religious (and non-religious) backgrounds as well as all ethnic backgrounds. You don't have to be United Methodist to come here, and you don't have to become United Methodist to belong here.
Give us a call at the church office 816-353-1435 between 9-4:00 Tuesday thru Thursday or send an email by going to our contact page.  We look forward to talking with you and hearing your story.  – Pastor Anchul Axelrod
Yes You Can!
Life is hard – let us help you.
If you're new to the area, simply looking for a church or perhaps you're beginning a new chapter in your life – there's a place for you at The Ridge.
Our goal is to help people learn effective solutions to break negative thought patterns, manage feelings and replace unhealthy behaviors by providing exercises and tools that help them help themselves through the word of God.
We offer genuine hospitality, friendship opportunities to assist in your faith walk and development. And our wonderful music is sure to inspire you. Join us on Sunday morning at 9:00 am for our Traditional Service or at 10:30 am for our Contemporary Service for an experience that could possibly change your life.   Follow link below for more information about our Worship Services.